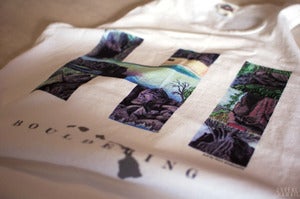 $

24.00
A new shirt is now available for rock climbers in Hawaii. The design features original art from Volcanic Rock Gym's very own Hiro Watanabe.
The custom artwork depicts eight different bouldering spots on Oahu.
This is the first shirt to be released from Unreal Hawaii. Any proceeds from this shirt will all be used to help fund a new rock climbing video project.
See more photos and learn more about the shirt on UnrealHawaii.com.
*** All sales are final ***
*** Sizing ***
These tanks will shrink up so sizing might be different than some other tanks out there.
Under 5'5" - Small (medium if you want to wear it loose)
5'5" to 5'8" - Medium
5'9" to 6' - Large
6' and up - Large or XLarge (if you want it a bit longer and looser)
***SIZE SMALLS ARE SOLD OUT***
***SIZE MEDIUM ARE SOLD OUT***